( ! )

Notice: Undefined index: code in /var/www/billigeflybilletter/public_html.20171031/wp-content/themes/billigeflybilleter1/core/includes/classes/PostLocalization.php on line 66
Call Stack
#
Time
Memory
Function
Location
1
0.0003
282392
{main}( )
../index.php:0
2
0.0006
285248
require( '/var/www/billigeflybilletter/public_html.20171031/wp-blog-header.php' )
../index.php:17
3
2.2467
63320792
require_once( '/var/www/billigeflybilletter/public_html.20171031/wp-includes/template-loader.php' )
../wp-blog-header.php:19
4
2.3172
63645424
include( '/var/www/billigeflybilletter/public_html.20171031/wp-content/themes/billigeflybilleter1/search-flights-results-page.php' )
../template-loader.php:74
5
2.9740
65258368
the_content( )
../search-flights-results-page.php:194
6
2.9742
65270976
apply_filters( )
../post-template.php:240
7
2.9743
65283600
WP_Hook->apply_filters( )
../plugin.php:203
8
3.0150
65384856
call_user_func_array ( )
../class-wp-hook.php:298
9
3.0150
65385192
do_shortcode( )
../class-wp-hook.php:298
10
3.0176
65408024
preg_replace_callback ( )
../shortcodes.php:223
11
3.0204
65463120
do_shortcode_tag( )
../shortcodes.php:223
12
3.0206
65464176
call_user_func ( )
../shortcodes.php:345
13
3.0206
65464552
billigeflybiltetter_weather_func( )
../shortcodes.php:345
14
3.0775
65464832
PostLocalization->getCityCode( )
../functions-extentions.php:358
( ! )

Notice: Undefined index: data in /var/www/billigeflybilletter/public_html.20171031/wp-content/themes/billigeflybilleter1/core/includes/classes/Weather_API.php on line 199
Call Stack
#
Time
Memory
Function
Location
1
0.0003
282392
{main}( )
../index.php:0
2
0.0006
285248
require( '/var/www/billigeflybilletter/public_html.20171031/wp-blog-header.php' )
../index.php:17
3
2.2467
63320792
require_once( '/var/www/billigeflybilletter/public_html.20171031/wp-includes/template-loader.php' )
../wp-blog-header.php:19
4
2.3172
63645424
include( '/var/www/billigeflybilletter/public_html.20171031/wp-content/themes/billigeflybilleter1/search-flights-results-page.php' )
../template-loader.php:74
5
2.9740
65258368
the_content( )
../search-flights-results-page.php:194
6
2.9742
65270976
apply_filters( )
../post-template.php:240
7
2.9743
65283600
WP_Hook->apply_filters( )
../plugin.php:203
8
3.0150
65384856
call_user_func_array ( )
../class-wp-hook.php:298
9
3.0150
65385192
do_shortcode( )
../class-wp-hook.php:298
10
3.0176
65408024
preg_replace_callback ( )
../shortcodes.php:223
11
3.0204
65463120
do_shortcode_tag( )
../shortcodes.php:223
12
3.0206
65464176
call_user_func ( )
../shortcodes.php:345
13
3.0206
65464552
billigeflybiltetter_weather_func( )
../shortcodes.php:345
14
3.1515
65475504
Weather_API->renderMonthsAverages( )
../functions-extentions.php:404
15
3.1836
65476296
Weather_API->renderMonthsAveragesData( )
../Weather_API.php:49
( ! )

Warning: Invalid argument supplied for foreach() in /var/www/billigeflybilletter/public_html.20171031/wp-content/themes/billigeflybilleter1/core/includes/classes/Weather_API.php on line 199
Call Stack
#
Time
Memory
Function
Location
1
0.0003
282392
{main}( )
../index.php:0
2
0.0006
285248
require( '/var/www/billigeflybilletter/public_html.20171031/wp-blog-header.php' )
../index.php:17
3
2.2467
63320792
require_once( '/var/www/billigeflybilletter/public_html.20171031/wp-includes/template-loader.php' )
../wp-blog-header.php:19
4
2.3172
63645424
include( '/var/www/billigeflybilletter/public_html.20171031/wp-content/themes/billigeflybilleter1/search-flights-results-page.php' )
../template-loader.php:74
5
2.9740
65258368
the_content( )
../search-flights-results-page.php:194
6
2.9742
65270976
apply_filters( )
../post-template.php:240
7
2.9743
65283600
WP_Hook->apply_filters( )
../plugin.php:203
8
3.0150
65384856
call_user_func_array ( )
../class-wp-hook.php:298
9
3.0150
65385192
do_shortcode( )
../class-wp-hook.php:298
10
3.0176
65408024
preg_replace_callback ( )
../shortcodes.php:223
11
3.0204
65463120
do_shortcode_tag( )
../shortcodes.php:223
12
3.0206
65464176
call_user_func ( )
../shortcodes.php:345
13
3.0206
65464552
billigeflybiltetter_weather_func( )
../shortcodes.php:345
14
3.1515
65475504
Weather_API->renderMonthsAverages( )
../functions-extentions.php:404
15
3.1836
65476296
Weather_API->renderMonthsAveragesData( )
../Weather_API.php:49
( ! )

Notice: Undefined index: data in /var/www/billigeflybilletter/public_html.20171031/wp-content/themes/billigeflybilleter1/core/includes/classes/Weather_API.php on line 165
Call Stack
#
Time
Memory
Function
Location
1
0.0003
282392
{main}( )
../index.php:0
2
0.0006
285248
require( '/var/www/billigeflybilletter/public_html.20171031/wp-blog-header.php' )
../index.php:17
3
2.2467
63320792
require_once( '/var/www/billigeflybilletter/public_html.20171031/wp-includes/template-loader.php' )
../wp-blog-header.php:19
4
2.3172
63645424
include( '/var/www/billigeflybilletter/public_html.20171031/wp-content/themes/billigeflybilleter1/search-flights-results-page.php' )
../template-loader.php:74
5
2.9740
65258368
the_content( )
../search-flights-results-page.php:194
6
2.9742
65270976
apply_filters( )
../post-template.php:240
7
2.9743
65283600
WP_Hook->apply_filters( )
../plugin.php:203
8
3.0150
65384856
call_user_func_array ( )
../class-wp-hook.php:298
9
3.0150
65385192
do_shortcode( )
../class-wp-hook.php:298
10
3.0176
65408024
preg_replace_callback ( )
../shortcodes.php:223
11
3.0204
65463120
do_shortcode_tag( )
../shortcodes.php:223
12
3.0206
65464176
call_user_func ( )
../shortcodes.php:345
13
3.0206
65464552
billigeflybiltetter_weather_func( )
../shortcodes.php:345
14
3.2027
65495592
Weather_API->renderWeekAverages( )
../functions-extentions.php:392
15
3.2363
65496352
Weather_API->renderWeekAveragesData( )
../Weather_API.php:34
( ! )

Warning: Invalid argument supplied for foreach() in /var/www/billigeflybilletter/public_html.20171031/wp-content/themes/billigeflybilleter1/core/includes/classes/Weather_API.php on line 165
Call Stack
#
Time
Memory
Function
Location
1
0.0003
282392
{main}( )
../index.php:0
2
0.0006
285248
require( '/var/www/billigeflybilletter/public_html.20171031/wp-blog-header.php' )
../index.php:17
3
2.2467
63320792
require_once( '/var/www/billigeflybilletter/public_html.20171031/wp-includes/template-loader.php' )
../wp-blog-header.php:19
4
2.3172
63645424
include( '/var/www/billigeflybilletter/public_html.20171031/wp-content/themes/billigeflybilleter1/search-flights-results-page.php' )
../template-loader.php:74
5
2.9740
65258368
the_content( )
../search-flights-results-page.php:194
6
2.9742
65270976
apply_filters( )
../post-template.php:240
7
2.9743
65283600
WP_Hook->apply_filters( )
../plugin.php:203
8
3.0150
65384856
call_user_func_array ( )
../class-wp-hook.php:298
9
3.0150
65385192
do_shortcode( )
../class-wp-hook.php:298
10
3.0176
65408024
preg_replace_callback ( )
../shortcodes.php:223
11
3.0204
65463120
do_shortcode_tag( )
../shortcodes.php:223
12
3.0206
65464176
call_user_func ( )
../shortcodes.php:345
13
3.0206
65464552
billigeflybiltetter_weather_func( )
../shortcodes.php:345
14
3.2027
65495592
Weather_API->renderWeekAverages( )
../functions-extentions.php:392
15
3.2363
65496352
Weather_API->renderWeekAveragesData( )
../Weather_API.php:34
( ! )

Notice: Undefined index: name in /var/www/billigeflybilletter/public_html.20171031/wp-content/themes/billigeflybilleter1/core/includes/classes/PostLocalization.php on line 50
Call Stack
#
Time
Memory
Function
Location
1
0.0003
282392
{main}( )
../index.php:0
2
0.0006
285248
require( '/var/www/billigeflybilletter/public_html.20171031/wp-blog-header.php' )
../index.php:17
3
2.2467
63320792
require_once( '/var/www/billigeflybilletter/public_html.20171031/wp-includes/template-loader.php' )
../wp-blog-header.php:19
4
2.3172
63645424
include( '/var/www/billigeflybilletter/public_html.20171031/wp-content/themes/billigeflybilleter1/search-flights-results-page.php' )
../template-loader.php:74
5
2.9740
65258368
the_content( )
../search-flights-results-page.php:194
6
2.9742
65270976
apply_filters( )
../post-template.php:240
7
2.9743
65283600
WP_Hook->apply_filters( )
../plugin.php:203
8
3.0150
65384856
call_user_func_array ( )
../class-wp-hook.php:298
9
3.0150
65385192
do_shortcode( )
../class-wp-hook.php:298
10
3.0176
65408024
preg_replace_callback ( )
../shortcodes.php:223
11
3.0204
65463120
do_shortcode_tag( )
../shortcodes.php:223
12
3.0206
65464176
call_user_func ( )
../shortcodes.php:345
13
3.0206
65464552
billigeflybiltetter_weather_func( )
../shortcodes.php:345
14
3.2564
65513768
PostLocalization->getCityName( )
../functions-extentions.php:417
Se priser på billige flybilletter til Paris på BilligeFlybilletter.dk.
Billige Flybilletter til Paris
Paris er en af de mest populære ruter fra Danmark – helt oppe i samme liga som bl.a. London og Malaga.
Paris er da også Kærlighedens By foruden at være en vigtig by for forretninger, hvorfor luftselskaberne tilbyder rigeligt med pladser både til de forretningsrejsende og turisterne.
Her på siden har du mulighed for at finde billige flybilletter til Paris. Vi sammenligner priserne fra alle de gængse udbydere og viser dig priserne. Vær opmærksom på, at ikke alle billetter er inklusive indchecket bagage, ligesom der er forskel på hvilken lufthavn, du flyver til.
Herunder kan du læse om de 5 lufthavne i og nær Paris. Hvor hurtigt du kommer ind til byen og hvor meget det koster varierer fra lufthavn til lufthavn. Regn derfor "besværlighedsfaktoren" med ind, når du søger efter billige flybilletter til Paris.
Lufthavne i Paris
Du kan komme til Paris by gennem en af 5 afgange:
Se kort over de 5 lufthavne og gennemgang herunder:
Hvis ovenstående billede ikke virker, se:
Charles de Gaulle Airport
Frankrigs største lufthavn er Charles de Gaulle Airport, der ligger cirka 25 kilometer nordøst for Paris.
Det er også den lufthavn med flest afgange, både nationalt og internationalt. Både som turist og forretningsrejsende vil din rejse ofte gå til netop Charles de Gaulle. Lufthavnen håndterede 62 millioner mennesker i 2013, hvilket er blot 13 millioner mindre end Europas mest travle lufthavn: Engelske Heathrow i London.
At komme ind til Paris fra Paris Charles de Gaulle er nemt. Du kan købe togbilletter frem og tilbage fra mellem 15 og 25 euro afhængigt af dit rabattrin. Der kører også busser, der koster endnu mindre.
Turen fra lufthavnen og indtil Notre Dame tager en god halv time og går igennem flere af Paris' forstæder.
Du kan også tage en taxa ind til byen for cirka 50 euro. Prisen for taxa indtil byen er fast for de fleste selskaber.
Togforbindelser til lufthavne om natten er udmærkede og går hver time. Vær dog opmærksom på, at en del af den franske metro kan være lukket om natten og at du af den grund er nødt til at tage en taxa enten inde i Paris by for at komme til en af de primære stationer eller en taxa direkte ud til lufthavnen, hvis du flyver meget tidligt om morgenen.
Mange danskere tager turen til USA, herunder New York og Los Angeles, og Sydamerika over Charles de Gaulle Airport, hvorfra store fly som Boeings Dreamliner og Airbis A380 flyver.
Orly Airport
Orly Airport er Paris' anden internationale lufthavn. Med 27 millioner passagerer i 2013 er lufthavnen under halv størrelse af Charles de Gaulle, men cirka på samme størrelse som Københavns Lufthavn i Kastrup.
Du kan komme til Orly Airport både med lavprisselskaberne og de ældre selskaber. Star Alliance, hvor bl.a. SAS er med, flyver både til Charles de Gaulle og Orly Airport.
Flybilletter til de to lufthavne koster cirka det samme.
Orly Lufthavn ligger blot 13 kilometer syd for Paris by. Det er derfor både nemt og billigt at komme ind til byen med taxa – cirka 25 euro – eller tog og bus, der står dig i 5-15 euro afhængigt af tidspunkt på dagen og rabattrin.
Vær opmærksom på, om du skal flyve fra terminal syd (Terminal Sud) eller øst (Terminal Ouest), hvis du flyver hjem igen fra Paris Orly Airport.
Beauvais-Tillé Airport
Denne mindre lufthavn ligger hele 85 kilometer nord for Paris og hører som sådan slet ikke til hverken byen eller amtet. Lufthavnens reelle navn er Beauvais-Tillé Airport, men ofte ser du den omtalt af flyselskaberne som Paris-Beauvais af markedsføringshensyn.
Det er især lavprisselskaber som Wizz Air og Ryan Air, der bruger lufthavnen.
At komme ind til Paris by sker enten med tog eller bus. Taxa kan ikke svare sig. Turen står dig i mellem 20 euro og 40 euro afhængig af dit rabattrin og metode og tager vel over en time.
Vi vil som udgangspunkt fraråde at købe billetter til Beauvais-Tillé Lufthavn, når du søger efter billige flybilletter til Paris. Nok kan du spare hundrede kroner på billetten, men du betaler med både tid og besvær, når du skal frem og tilbage fra lufthavnen.
Paris-Le Bourget Airport
Paris første lufthavn hedder Pasris-Le Bourget. Det er den mest centrale lufthavn med en beliggenhed blot 10 kilometer nordøst for byen.
Det er dog samtidigt en lille lufthavn med blot en enkelt landingsbane. Ofte bruges den af forretningsrejsende i mindre fly, da større kommercielle passagerfly ikke har mulighed for at lande i lufthavnen.
Det er nemt at komme ind i byen både med tog, bus og taxa. Lufthavnen minder om London City Airport på den måde, at der er få fly, der går til lufthavnen og at de generelt er dyre. Derfor tiltrækker lufthavnen sig i særlig grad forretningsrejsende.
Det berømte Paris Air Show afholdes også i Paris-Le Bourget Airport hver juni.
Chalons Vatry Airport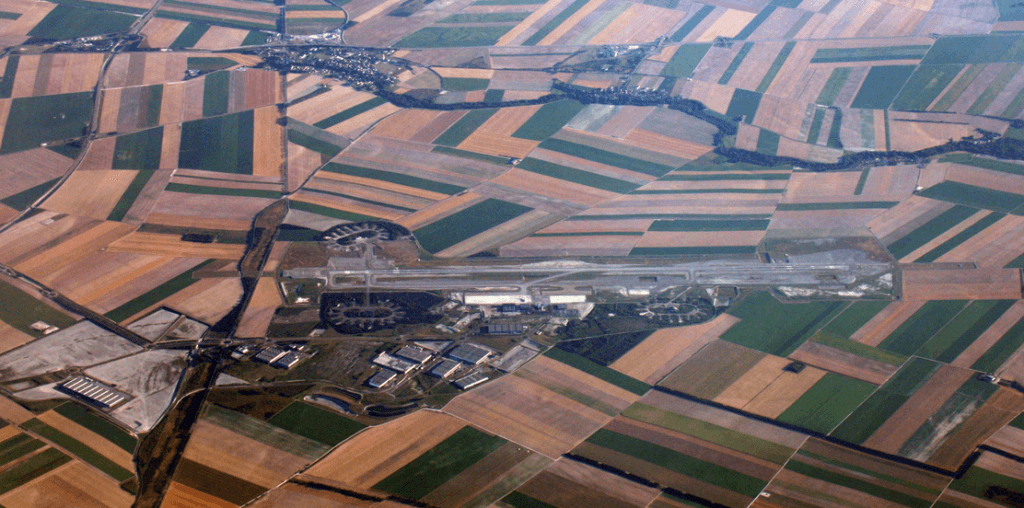 Som Beauvais-Tillé Airport er Chalons Vatry Airport en lavpris-lufthavn beliggende hede 147 kilometer fra Paris' by (!).
Lufthavnen bruges fortrinsvis af RyanAir.
At komme til lufthavnen tager et par timer og sker enten med bus eller tog. Billetterne koster fra 25 euro og opefter.
Vi fraråder rejse til Chalons Vatry Airport. Du sparer et par hundrede kroner på din billet, men din transport ind til selve Paris by er både besværlig, langsommelig og dyr. Det giver bedre mening at betale en smule mere for en bedre billet.
Priser på flybilletter til Paris
Paris er en generelt billig by at finde flybilletter til.
Det skyldes det store udbud af billetter, der matcher efterspørgslen både fra turister og forretningsrejsende.
Du kan det meste af året finde billige flybilletter til Paris for under 1.000 kroner tur / retur. I sommerferien og vinterferien stiger priserne generelt for så at falde til almindeligt niveau senere.
SAS, Air France, EasyJet og Norwegian er blandt de selskaber, der flyver mest til Paris.
Du har som rejsende god mulighed for at rejse flere tidspunkter på dagen med adskillige afgange alene fra Københavns Lufthavn hver eneste dag. Du kan også næsten finde daglige flyafgange fra Billund og Aalborg Lufthavn til Paris Charles de Gaulle og Orly Airport især.
Du sparer ikke mange penge ved at bestille dine flybilletter til Paris i god tid, da priserne i forvejen generelt er lave.
Sådan finder du ekstra billige flybilletter til Paris
Hvis du skal på budgettur til Paris har vi samlet et par gode tips til at finde ekstra billige flybilletter til byen:
Rejs uden indchecket bagage. Med lavprisselskaberne finder du billige flybilletter til Paris for vel under tusinde kroner, men du har kun mulighed for at tage håndbagage med.
Rejs til enten Charles de Gaulle eller Orly Airport. Beauvis-Tillé og Chalons Vatry Airport ligger så langt væk, at dine omkostninger til at komme til og fra lufthavnen kommer til at minde om det, du faktisk har betalt for din flybillet alene.
Rejs tidligt om morgenen eller sent om aftenen for de billigste billetter.
Husk at tilmelde dig bonus-systemer som SAS Euromiles for at optjene points og derved senere få rabat på kommende flyture.
Sammenlign altid priserne før du tager ud at flyve. Du kan sammenligne priserne med BilligeFlybilletter.dk længere oppe på denne side.
Hvis du skal til Disneyland Paris, så vær opmærksom på, at forlystelsesparken ofte kører tilbud sammen med forskellige luftfartsselskaber om en samlet pakke på fly, hotel og indgang i selve Disneyland.
Hvis du vil på rundrejse er Paris Charles de Gaulle og Orly Airport et godt sted at købe flybilletter til, da du herfra kan rejse til det meste af verden.
Værd at vide om Paris
Paris er både kendt som "Kærlighedens By" og "Byernes By".
Med forstæder bor der omkring 12 millioner mennesker i Paris – eller ca. 8 gange så mange som i København.
Paris her i gennem to årtusinder været et førende centrum både for forretning og kultur. Især mange modevirksomheder har hjemme i Paris, hvor også nogle af verdens mest fashionable brands har hovedsæde.
Som by har Paris leveomkostninger cirka på Københavns niveau, hvis vi ser bort fra priserne for at købe lejligheder og bo til leje. De er væsentligt højere end i København.
Paris kan også bryste sig af at være verdens mest populære turistdestination med mere end 30 millioner udenlandske besøgende hvert år (!). Vartegn inkluderer Eiffeltårnet, Notre Dame, Champs-Elysées, Invalides samt Louvre-museet, hvor verdens mest berømte maleri, Leonardo da Vincis Mona Lisa hænger bag mange tommer skudsikkert plexiglas.
Status som verdens mest populære turistby er også hjulpet godt på vej af de mange billige flybilletter til Paris, de forskellige lavpris- og ældre flyselskaber stiller til rådighed for dig som rejsende.
Søg efter billige billetter til Paris herover og nyd dit besøg i den franske hovedstad!
Vejr i

Weather Forecast Data error