( ! )

Notice: Undefined index: code in /var/www/billigeflybilletter/public_html.20171031/wp-content/themes/billigeflybilleter1/core/includes/classes/PostLocalization.php on line 66
Call Stack
#
Time
Memory
Function
Location
1
0.0008
283560
{main}( )
../index.php:0
2
0.0012
286416
require( '/var/www/billigeflybilletter/public_html.20171031/wp-blog-header.php' )
../index.php:17
3
1.8706
63312128
require_once( '/var/www/billigeflybilletter/public_html.20171031/wp-includes/template-loader.php' )
../wp-blog-header.php:19
4
1.9284
63638216
include( '/var/www/billigeflybilletter/public_html.20171031/wp-content/themes/billigeflybilleter1/search-flights-results-page.php' )
../template-loader.php:74
5
2.4254
65143448
the_content( )
../search-flights-results-page.php:194
6
2.4255
65150680
apply_filters( )
../post-template.php:240
7
2.4255
65157928
WP_Hook->apply_filters( )
../plugin.php:203
8
2.4484
65211288
call_user_func_array ( )
../class-wp-hook.php:298
9
2.4484
65211624
do_shortcode( )
../class-wp-hook.php:298
10
2.4503
65224552
preg_replace_callback ( )
../shortcodes.php:223
11
2.4506
65255408
do_shortcode_tag( )
../shortcodes.php:223
12
2.4507
65256464
call_user_func ( )
../shortcodes.php:345
13
2.4508
65256840
billigeflybiltetter_weather_func( )
../shortcodes.php:345
14
2.4863
65257120
PostLocalization->getCityCode( )
../functions-extentions.php:358
( ! )

Notice: Undefined index: data in /var/www/billigeflybilletter/public_html.20171031/wp-content/themes/billigeflybilleter1/core/includes/classes/Weather_API.php on line 199
Call Stack
#
Time
Memory
Function
Location
1
0.0008
283560
{main}( )
../index.php:0
2
0.0012
286416
require( '/var/www/billigeflybilletter/public_html.20171031/wp-blog-header.php' )
../index.php:17
3
1.8706
63312128
require_once( '/var/www/billigeflybilletter/public_html.20171031/wp-includes/template-loader.php' )
../wp-blog-header.php:19
4
1.9284
63638216
include( '/var/www/billigeflybilletter/public_html.20171031/wp-content/themes/billigeflybilleter1/search-flights-results-page.php' )
../template-loader.php:74
5
2.4254
65143448
the_content( )
../search-flights-results-page.php:194
6
2.4255
65150680
apply_filters( )
../post-template.php:240
7
2.4255
65157928
WP_Hook->apply_filters( )
../plugin.php:203
8
2.4484
65211288
call_user_func_array ( )
../class-wp-hook.php:298
9
2.4484
65211624
do_shortcode( )
../class-wp-hook.php:298
10
2.4503
65224552
preg_replace_callback ( )
../shortcodes.php:223
11
2.4506
65255408
do_shortcode_tag( )
../shortcodes.php:223
12
2.4507
65256464
call_user_func ( )
../shortcodes.php:345
13
2.4508
65256840
billigeflybiltetter_weather_func( )
../shortcodes.php:345
14
2.5486
65267824
Weather_API->renderMonthsAverages( )
../functions-extentions.php:404
15
2.5782
65268616
Weather_API->renderMonthsAveragesData( )
../Weather_API.php:49
( ! )

Warning: Invalid argument supplied for foreach() in /var/www/billigeflybilletter/public_html.20171031/wp-content/themes/billigeflybilleter1/core/includes/classes/Weather_API.php on line 199
Call Stack
#
Time
Memory
Function
Location
1
0.0008
283560
{main}( )
../index.php:0
2
0.0012
286416
require( '/var/www/billigeflybilletter/public_html.20171031/wp-blog-header.php' )
../index.php:17
3
1.8706
63312128
require_once( '/var/www/billigeflybilletter/public_html.20171031/wp-includes/template-loader.php' )
../wp-blog-header.php:19
4
1.9284
63638216
include( '/var/www/billigeflybilletter/public_html.20171031/wp-content/themes/billigeflybilleter1/search-flights-results-page.php' )
../template-loader.php:74
5
2.4254
65143448
the_content( )
../search-flights-results-page.php:194
6
2.4255
65150680
apply_filters( )
../post-template.php:240
7
2.4255
65157928
WP_Hook->apply_filters( )
../plugin.php:203
8
2.4484
65211288
call_user_func_array ( )
../class-wp-hook.php:298
9
2.4484
65211624
do_shortcode( )
../class-wp-hook.php:298
10
2.4503
65224552
preg_replace_callback ( )
../shortcodes.php:223
11
2.4506
65255408
do_shortcode_tag( )
../shortcodes.php:223
12
2.4507
65256464
call_user_func ( )
../shortcodes.php:345
13
2.4508
65256840
billigeflybiltetter_weather_func( )
../shortcodes.php:345
14
2.5486
65267824
Weather_API->renderMonthsAverages( )
../functions-extentions.php:404
15
2.5782
65268616
Weather_API->renderMonthsAveragesData( )
../Weather_API.php:49
( ! )

Notice: Undefined index: data in /var/www/billigeflybilletter/public_html.20171031/wp-content/themes/billigeflybilleter1/core/includes/classes/Weather_API.php on line 165
Call Stack
#
Time
Memory
Function
Location
1
0.0008
283560
{main}( )
../index.php:0
2
0.0012
286416
require( '/var/www/billigeflybilletter/public_html.20171031/wp-blog-header.php' )
../index.php:17
3
1.8706
63312128
require_once( '/var/www/billigeflybilletter/public_html.20171031/wp-includes/template-loader.php' )
../wp-blog-header.php:19
4
1.9284
63638216
include( '/var/www/billigeflybilletter/public_html.20171031/wp-content/themes/billigeflybilleter1/search-flights-results-page.php' )
../template-loader.php:74
5
2.4254
65143448
the_content( )
../search-flights-results-page.php:194
6
2.4255
65150680
apply_filters( )
../post-template.php:240
7
2.4255
65157928
WP_Hook->apply_filters( )
../plugin.php:203
8
2.4484
65211288
call_user_func_array ( )
../class-wp-hook.php:298
9
2.4484
65211624
do_shortcode( )
../class-wp-hook.php:298
10
2.4503
65224552
preg_replace_callback ( )
../shortcodes.php:223
11
2.4506
65255408
do_shortcode_tag( )
../shortcodes.php:223
12
2.4507
65256464
call_user_func ( )
../shortcodes.php:345
13
2.4508
65256840
billigeflybiltetter_weather_func( )
../shortcodes.php:345
14
2.5979
65287872
Weather_API->renderWeekAverages( )
../functions-extentions.php:392
15
2.6278
65288632
Weather_API->renderWeekAveragesData( )
../Weather_API.php:34
( ! )

Warning: Invalid argument supplied for foreach() in /var/www/billigeflybilletter/public_html.20171031/wp-content/themes/billigeflybilleter1/core/includes/classes/Weather_API.php on line 165
Call Stack
#
Time
Memory
Function
Location
1
0.0008
283560
{main}( )
../index.php:0
2
0.0012
286416
require( '/var/www/billigeflybilletter/public_html.20171031/wp-blog-header.php' )
../index.php:17
3
1.8706
63312128
require_once( '/var/www/billigeflybilletter/public_html.20171031/wp-includes/template-loader.php' )
../wp-blog-header.php:19
4
1.9284
63638216
include( '/var/www/billigeflybilletter/public_html.20171031/wp-content/themes/billigeflybilleter1/search-flights-results-page.php' )
../template-loader.php:74
5
2.4254
65143448
the_content( )
../search-flights-results-page.php:194
6
2.4255
65150680
apply_filters( )
../post-template.php:240
7
2.4255
65157928
WP_Hook->apply_filters( )
../plugin.php:203
8
2.4484
65211288
call_user_func_array ( )
../class-wp-hook.php:298
9
2.4484
65211624
do_shortcode( )
../class-wp-hook.php:298
10
2.4503
65224552
preg_replace_callback ( )
../shortcodes.php:223
11
2.4506
65255408
do_shortcode_tag( )
../shortcodes.php:223
12
2.4507
65256464
call_user_func ( )
../shortcodes.php:345
13
2.4508
65256840
billigeflybiltetter_weather_func( )
../shortcodes.php:345
14
2.5979
65287872
Weather_API->renderWeekAverages( )
../functions-extentions.php:392
15
2.6278
65288632
Weather_API->renderWeekAveragesData( )
../Weather_API.php:34
( ! )

Notice: Undefined index: name in /var/www/billigeflybilletter/public_html.20171031/wp-content/themes/billigeflybilleter1/core/includes/classes/PostLocalization.php on line 50
Call Stack
#
Time
Memory
Function
Location
1
0.0008
283560
{main}( )
../index.php:0
2
0.0012
286416
require( '/var/www/billigeflybilletter/public_html.20171031/wp-blog-header.php' )
../index.php:17
3
1.8706
63312128
require_once( '/var/www/billigeflybilletter/public_html.20171031/wp-includes/template-loader.php' )
../wp-blog-header.php:19
4
1.9284
63638216
include( '/var/www/billigeflybilletter/public_html.20171031/wp-content/themes/billigeflybilleter1/search-flights-results-page.php' )
../template-loader.php:74
5
2.4254
65143448
the_content( )
../search-flights-results-page.php:194
6
2.4255
65150680
apply_filters( )
../post-template.php:240
7
2.4255
65157928
WP_Hook->apply_filters( )
../plugin.php:203
8
2.4484
65211288
call_user_func_array ( )
../class-wp-hook.php:298
9
2.4484
65211624
do_shortcode( )
../class-wp-hook.php:298
10
2.4503
65224552
preg_replace_callback ( )
../shortcodes.php:223
11
2.4506
65255408
do_shortcode_tag( )
../shortcodes.php:223
12
2.4507
65256464
call_user_func ( )
../shortcodes.php:345
13
2.4508
65256840
billigeflybiltetter_weather_func( )
../shortcodes.php:345
14
2.6526
65306048
PostLocalization->getCityName( )
../functions-extentions.php:417
Se priser på billige flybilletter til Berlin på BilligeFlybilletter.dk.
Berlin i Tyskland er et meget populært rejsemål fra Danmark. Det skyldes både Berlins kulturelle historie, de flotte kvarterer og den store by blot en time væk som det er tilfældet med London – men også Berlins status som tysk erhvervslokomotiv lokker mange danskere til landet.
Med BilligeFlybilletter.dk kan du søge efter flybilletter til Berlin direkte fra København, Billund og Aalborg.
Fordi at Berlin ligger blot en times flyvning væk fra de fleste danske lufthavne er så godt som alle fly direkte. Turen er kort og du finder også derfor rutinemæssigt billetter til blot 500 kroner tur / retur til Berlin.
Herunder kan du læse mere om Berlins Lufthavne, lidt om at spare penge på dine flybilletter samt generelt om at rejse til Tyskland fra Danmark.
Du kan også gå længere op på siden og begynde at søge efter billige flybilletter til Berlin nu. Indtast de datoer du gerne vil flyve på og find ud af, hvilke selskaber, der kan gøre det til den bedste pris.
Lufthavne i Berlin
Du finder 2 lufthavne i Berlin:
Berlin Tegel Airport
Flughafen Berlin-Schönefeld
Du kan læse mere om de to lufthavne her:
Berlin Tegel Airport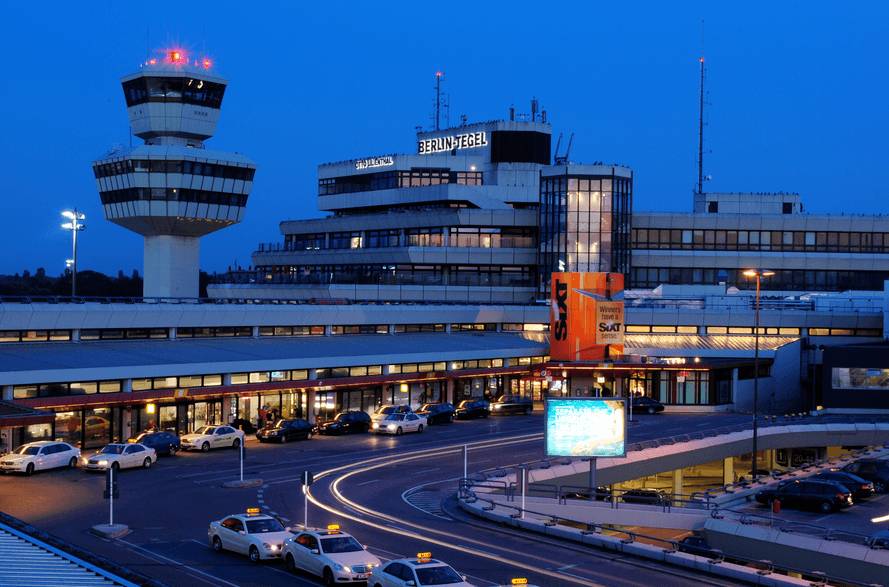 Berlin Tegel Airport er lige nu den største lufthavn i Berlin.
Lufthavnen ligger blot 5 kilometer nordvest for indre by. Du har mulighed for at tage både tog, bus og taxa direkte ind til Berlin med priser, der starter på blot 5 euro.
Tegel er kendt for sit heksagonale (sekskantede) design. Fra nogle fly er der blot 30 meter ud til udgangsterminalen.
Det er planlagt, at Berlin Tegel Airport skal lukke, når Berlin Brandenburg Airport er klar (mere herom længere nede).
Flughafen Berlin-Schönefeld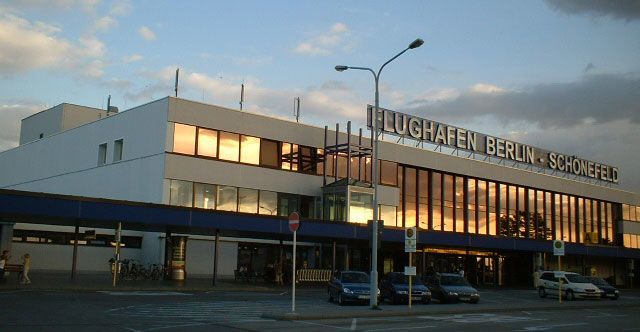 Den andenstørste lufthavn er Berlin-Schönefeld, der ligger 11 km sydøst for Berlin. Berlin-Schönefeld var den primære lufthavn for det gamle Østtyskland, men er i dag sekundær lufthavn i Berlin.
Bl.a. lavprisselskabet EasyJet bruger Berlin-Schönefeld som primær lufthavn.
Du kan tage den tyske ækvivalent til S-toget ind til byen og Airport Express-toget, der minder mere om de danske regionaltog. Du kan også tage bus direkte ind til byen.
Du kan også roligt tage en taxa, da taxapriserne i Berlin er faste (i modsætning til Stockholm og resten af Sverige, hvor du skal passe meget på med hvem, du kører med).
Amerikanske Uber er forbudt i Berlin og derfor ikke en mulighed, når du skal transporteres til lufthavnen og fra den.
Berlin Brandenburg Airport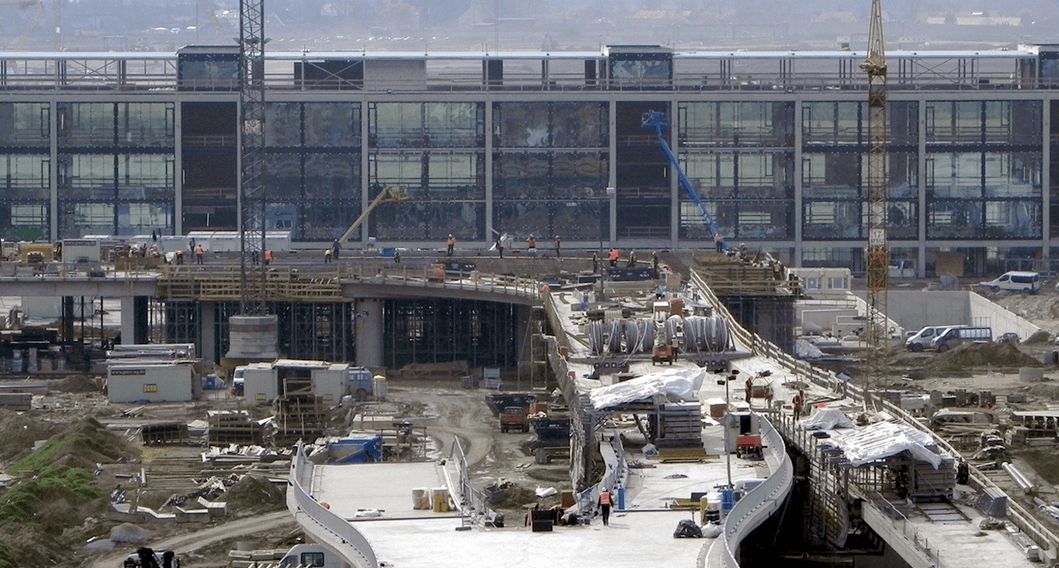 Om få år – håber vi – vil du hverken flyve til Tegel eller Berlin-Schönefeld. I stedet vil du flyve til Berlin Brandenburg Airport.
Brandeburg skulle have åbnet i 2010, men er blevet forsinket gang på gang og er en af de største tyske byggeskandaler nogensinde. I dag håber vi, at lufthavnen vil åbne engang i 2018. Behovet for lufthavnen er stort, da de to eksisterende lufthavne i Berlin slet ikke kan klare det pres af mennesker, der flyver ind og ud af byen hver dag.
Når Berlin Brandenburg Airport står færdig vil det blive den tredjestørste lufthavn i Tyskland og lige uden for den europæiske top-10. Men hvornår det sker kan vi kun gætte på.
Sådan finder du billige flybilletter til Berlin
Berlin er et populært rejsemål. Derfor er der mange billige flybilletter til Berlin at hente.
Du kan dog gøre det endnu billigere med et par simple tips:
Berlin er blot en time væk og du kan hurtigt tage frem og tilbage. På en kort tur kan du nøjes med håndbagage. Så kan du flyve med billige billetter fra fx EasyJet til Berlin-Schönefeld uden at checke bagage ind.
Brug denne side til at sammenligne billige flybilletter til Berlin fra de danske lufthavne.
Undgå de lufthavne, der ligger udenfor Berlin – alle andre lufthavne end Tegel, Schönefeld og senere Brandeburg Airport bør du gå i en stor bue udenom. RyanAir og WizzAir er blandt de selskaber, der også flyver til andre lufthavne, der af markedsføringsmæssige hensyn kaldes for Berlin, men i virkeligheden ligger langt væk.
Da flybilletterne til Berlin er billige året rundt vinder du ikke meget ved at bestille dine billetter i god tid. Priserne er cirka de samme 2 uger før som på dagen, du rejser afsted til den tyske by.
Andre tyske byer
Berlin er ikke den eneste by i Tyskland, der er værd at besøge.
I flæng kan vi nævne:
Tyskland med sine 90 millioner indbyggere er et stort land og der er forskel på syd og nord. Du kan flyve indenrigs i Tyskland med flybilletter til fx Frankfurt fra Berlin til billige penge, ligesom du ofte finder direkte billetter fra de danske lufthavne.
Frankfurt især er en af Europas største lufthavne og i sig selv en oplevelse værd.
Du har også mulighed for at flyve til en lufthavn og derefter leje en bil og aflevere bilen i en anden lufthavn. På den måde får du set mere til vores sydlige, tyske naboer.
Men Berlin er stadig et godt sted at starte. Efter at have købt dine billige flybilletter til Berlin kan du nyde det tyske kraftcenter, der består næsten halvt af parker og søer, hvor de har 0 dage med sne om året og består af et areal, der er hele 8 gange større end franske Paris (der ellers kan prale med at være den mest populære turistdestination i hele verden – du finder billige flybilletter til Paris her).
Hav en god tur til Berlin – Vi håber, I finder nogle gode billetter!
Vejr i

Weather Forecast Data error